Cruise search. Cruises in Europe, cruises in Carribean, cruises in Asia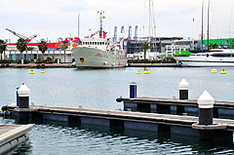 The port of Valencia in Spain
Cruises in Spain: 2011 record
Spanish ports were attended by almost 8 million people in 2011. This is the highest rate for the Spanish cruise industry in the history. The growth of cruise passenger traffic was amounted to more than 11%. According to the Spanish Ministry of Transport, the total number of cruise visits exceeded 3900.

Mediterranean Sea ports of Spain received the largest number of cruise passengers - about 70% of the total cruise passenger traffic.

Spain accounts for 22% of the total number of cruise passengers, who visited European ports in 2011. Mediterranean continues to be the second popular cruise region in the world.

The most popular port of Spain is Barcelona. The cruise terminal of the Catalonian capital was visited by 2.6 million cruise passengers in 2011. The second place is hold by the Balearic ports with 1.6 million visitors. In the third place is the port of Malaga, which hosted 638.000 passengers. Among other popular Mediterranean ports is Valencia, which has demonstrated one of the most impressive growth rates. This year the number of cruise passengers increased by almost 50% exceeding 378.000 people.

On the Atlantic coast of Spain are also its own symbolic ports. The most popular of them are Cadiz (374.000 passengers) and Vigo (353.000 passengers).

Another particular cruise region of Spain is the Canary Islands. This region is one of the three most visited areas of the country. In 2011 its ports were visited by 1.5 million people.

Spain intends to further promote its tourism opportunities. This year the country's leading ports took part in the main world cruise exhibition - Cruise Shipping Miami 2012. In the Puertos de Espana pavilion were presented in total 26 ports of the country, as well as dozens of companies producing olive oil, wine and other gourmet products.
Ilya Kalachev
Photo: Alesya Belaya
Date: 25/03/2012
Comments
No comments
News
06/08/2012
Riviera will start its first Caribbean cruise in Miami
Riviera, which is the newest ship of the Oceania Cruises company, will depart for the first winter cruise from Miami on November 29, 2012.

06/08/2012
More cruises in Northern Europe
It is expected that 2012 will be one of the most successful season in the modern history of the cruise traveling for the Northern Europe region. The European Cruise Council (ECC) has estimated that the number of passengers in the current season will increase by 16% compared with 2011 and reach 1 million 490 thousand people.

19/07/2012
Norwegian: free cruises for children
Norwegian Cruise Line, the third-largest cruise company in the world, announced a special offer – "Kids Sail Free". As part of the offer potential customers will be able to book on favorable terms cabins on the cruise ships for themselves and their children – the third and fourth beds in the cabin for the children under 17 years can be booked for free.


RSS
<![if (IE 6)]> <![endif]>