Cruise search. Cruises in Europe, cruises in Carribean, cruises in Asia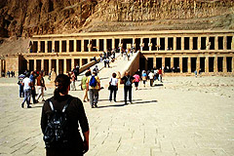 Egypt, Luxor. MSC Cruises will present new Red Sea cruises in the famous ports of Egypt
MSC will go to the Red Sea
Italian cruise operator MSC Cruises will open the Red Sea direction. This region is among the new routes, which the company intends to develop in 2012-2013 season.

Red Sea cruises from MSC Cruises will be available from autumn 2012. During the winter season Red Sea cruises will be served by the MSC Armonia liner. The first cruise departs from Venice on November 2 and will last for 9 days. During the cruise the liner will cross the Suez Canal and visit such ports as Ancona in Italy, Heraklion in Greece, Marmaris in Turkey and Sharm el-Sheikh in Egypt.

Then starting from November 10, 2012 MSC Armonia will perform regular 8-day cruises until April 2013 across the most popular Red Sea ports, including Aqaba in Jordan, Eilat in Israel, Soukhna ("the port of the pyramids") and Safaga ("the port of Luxor") in Egypt.

All cruises will depart from the port of Sharm el-Sheikh. The final MSC Armonia voyage in the winter season is scheduled for April 6, 2013. On this day the liner will go for a 10-day cruise back to the port of Venice, but visit other ports: Sokhna in Egypt, Limassol in Cyprus, Antalya in Turkey, Rhodes and Heraklion in Greece, as well as Kotor in Montenegro.

MSC Armonia Is a liner, which can receive up to 2,000 passengers. The ship was built in 2001 and is one of the most famous ships of the MSC brand. For example, in 2001 MSC Armonia, which was then called MS European Vision, was chartered by the organizers of the G8 meeting for the world leaders. During summer 2012 the ship will serve Mediterranean routes. In the coming season MSC Armonia is planning to visitsuch ports as Corfu, Venice, Kotor, Piraeus, and others.
Ilya Kalachev
Photo: Dagobert Vidamann
Date: 07/04/2012
Comments
No comments
News
06/08/2012
Riviera will start its first Caribbean cruise in Miami
Riviera, which is the newest ship of the Oceania Cruises company, will depart for the first winter cruise from Miami on November 29, 2012.

06/08/2012
More cruises in Northern Europe
It is expected that 2012 will be one of the most successful season in the modern history of the cruise traveling for the Northern Europe region. The European Cruise Council (ECC) has estimated that the number of passengers in the current season will increase by 16% compared with 2011 and reach 1 million 490 thousand people.

19/07/2012
Norwegian: free cruises for children
Norwegian Cruise Line, the third-largest cruise company in the world, announced a special offer – "Kids Sail Free". As part of the offer potential customers will be able to book on favorable terms cabins on the cruise ships for themselves and their children – the third and fourth beds in the cabin for the children under 17 years can be booked for free.


RSS
<![if (IE 6)]> <![endif]>