Cruise search. Cruises in Europe, cruises in Carribean, cruises in Asia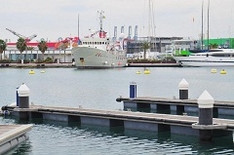 Port of Valencia
Cruises in Spain: new cruise operator in Valencia
Starting from July 1, 2012 new operator will appear in Valencia, one of the largest port cities in Spain. It will be Valencia Passenger Services Terminal company, which will provide for a full range of services for ships and passengers arriving and departing for cruises from Valencia.

New cruise operator in Valencia will transport the luggage, as well as provide passengers for transfer services from the ship to the terminal and from the terminal to the city center.

At this stage at the port of Valencia the former building of the ferry terminal built 40 years ago is being reconstructed for organizing comfortable accommodation of cruise passengers. Here Valencia Passenger Services Terminal will organize luggage receiving point, point of registration, recreation area and cafe. The total cost of works is estimated at 500 thousand Euros.

Currently Valencia is one of the most popular Mediterranean cruise ports in Spain. In 2012 it is expected to receive in total about 200 ships. Among the companies, which ships will likely visit the port, are Costa Cruises and Pullmantur, MSC Cruises. However, Valencia still looses in equipment and passenger traffic flow to such Spanish ports like Barcelona or Malaga. It is especially noticeable, when the port is overloaded due to the major global events such as Formula 1 Grand Prix in Valencia. For example, last year the cruise port of Valencia received over 43 thousand passengers before the Gran Prix.

The new operator will include four companies - Bergé, Pérez & Cia, Roca Monzó and Transcoma. It is expected that the main task of Valencia Passenger Services Terminal will be modernizing the cruise port of Valencia to the same level of services as the main Spanish cruise leaders.

In 2011 the total number of cruise passengers in the port of Valencia has exceeded 370 thousand people, which is by 49% more than last year.
Ilya Kalachev
Photo: Alesya Belaya
Date: 14/06/2012
Comments
No comments
News
06/08/2012
Riviera will start its first Caribbean cruise in Miami
Riviera, which is the newest ship of the Oceania Cruises company, will depart for the first winter cruise from Miami on November 29, 2012.

06/08/2012
More cruises in Northern Europe
It is expected that 2012 will be one of the most successful season in the modern history of the cruise traveling for the Northern Europe region. The European Cruise Council (ECC) has estimated that the number of passengers in the current season will increase by 16% compared with 2011 and reach 1 million 490 thousand people.

19/07/2012
Norwegian: free cruises for children
Norwegian Cruise Line, the third-largest cruise company in the world, announced a special offer – "Kids Sail Free". As part of the offer potential customers will be able to book on favorable terms cabins on the cruise ships for themselves and their children – the third and fourth beds in the cabin for the children under 17 years can be booked for free.


RSS
<![if (IE 6)]> <![endif]>