Cruises worldwide » Cruise lines » Vishal Cruises » Delphin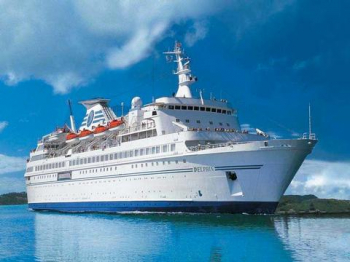 Delphin Description
This ocean cruiser built in 1975, the MS Delphin, was completely refitted in 1993. The 157-metre-long ship can accommodate a maximum of 470 passengers in its 236 cabins on 7 passenger decks.
The MS Delphin delights passengers with cruises all over the world. The facilities and amenities on board include spacious deck areas for sunbathing, a swimming pool, a pool bar and two other bars, a restaurant with a sea view, two lifts, a disco, a lounge for evening entertainment and dancing, an on-board travel agency, Internet facilities and a library in one of the lounges, a shopping street with duty free shopping, hairdresser's, massage and beauty salon, steam bath, sauna and sun room and zodiac inflatable boats. Guests who enjoy sports can make use of the pool, a fitness studio, a volleyball and basketball court, keep fit classes and courses in relaxation techniques (e.g. yoga, pilates, Qi Gong), shuffleboard, a jogging track around 230 metres in length, a table-tennis table and dartboard. The selection of entertainment and recreational activities on board ranges from a variety of daytrips, a programme of activities and shows, to talks and satellite video presentations, cocktail receptions and the captain's dinner.
The cabins have a shower/WC, hairdryer, an air-conditioning system that can be set to your individual requirements, a television, on-board radio station, a telephone and a safe. The cabins with additional beds have two lower bunk and two upper bunk beds, which can be stowed away during the day. Comfort and luxury cabins have a large double-bed, seating area and minibar. Suites have a double-bed, a bath and a separate, spacious lounge complete with a minibar.
Forget your worries and come aboard the MS Delphin - tastefully decorated cabins, a laidback atmosphere, the finest cuisine and dream destinations all over the world await you!

Ship Delphin
General Information: Сlassification: 3.5 , Ship Class: Standard , Shipyard: Wartsila Shipyard, Turku, Finnland , Flag: Bahamas , Pools, Max. Knots: 21 , Width in meters: 22 , Crew: 200 , Length in meters: 157 , Max Passengers : 470 , Decks: 6 , Tonnage: 16214 , Year Built: 1975 , On Board Currency: Euro , On Board Language: Deutsch , Sailing Area: Hochsee , Jogging track, Gym, Sport: Volleyball, Basketball, Fußball , Sauna, Solarium, Massage, Beauty salon, Steam room, Library, Cinema, Discos, Bars: 5 , Restaurants: 1 , Duty Free, Laundry, Hairdresser, Bord hospital, Ironing Service
News
06/08/2012
Riviera will start its first Caribbean cruise in Miami
Riviera, which is the newest ship of the Oceania Cruises company, will depart for the first winter cruise from Miami on November 29, 2012.

06/08/2012
More cruises in Northern Europe
It is expected that 2012 will be one of the most successful season in the modern history of the cruise traveling for the Northern Europe region. The European Cruise Council (ECC) has estimated that the number of passengers in the current season will increase by 16% compared with 2011 and reach 1 million 490 thousand people.

19/07/2012
Norwegian: free cruises for children
Norwegian Cruise Line, the third-largest cruise company in the world, announced a special offer – "Kids Sail Free". As part of the offer potential customers will be able to book on favorable terms cabins on the cruise ships for themselves and their children – the third and fourth beds in the cabin for the children under 17 years can be booked for free.


RSS
<![if (IE 6)]> <![endif]>