Cruise search. Cruises in Europe, cruises in Carribean, cruises in Asia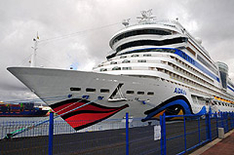 Cruise ship AIDAblue on the Canary Islands
AIDA Cruises: new cruises in Europe
German cruise operator AIDA Cruises will publish new cruise catalog for the 2013-2014 season. Among the company novelties of the upcoming season is introducing of Northern European cruises and new ports around the world.

In addition, 2013 promises to be the year of fleet replenishment for the AIDA Cruises. New ship AIDAstella is planned to be launched on March 17, 2013.

AIDAstella will start its first cruise in May. The liner will depart from Hamburg for a two-week trip along the cities and ports in Northern Europe. In April and March 2013 AIDAstella will serve short tours in Amsterdam and London from Hamburg. During the winter season the ship is expected to serve the Canary Islands routes.

New AIDA Cruises catalogue promises not only detailed description of routes, but also detailed characteristics of each port, as well as description of all excursions that are available on the routes. It will also include opportunities for recreation on the ships, passenger photos description of available entertainment.

Among the novelties of the season are new ports for AIDA ships, including Icelandic port of Isafjordur and Klaksvik port on the Faroe Islands. In addition, among the main destinations of the company is the island of Portland in the southern part of the UK. New list will also include ports, cities and resorts in Asia and the Caribbean, including Langkawi in Malaysia and the island of St. Kitts in the Caribbean.

The company will traditionally save its presence in such Adriatic ports as Dubrovnik, Zadar and Venice.

All six cruise ships of the company will depart from the German cities of Warnemunde, Kiel and Hamburg.

AIDA Cruises is one of the largest companies in Europe selling cruise package tours. The main aim of the company is the German market. AIDA Cruises is part of the Carnival Corporation.
Ilya Kalachev
Photo: Alesya Belaya
Date: 23/02/2012
Comments
No comments
News
06/08/2012
Riviera will start its first Caribbean cruise in Miami
Riviera, which is the newest ship of the Oceania Cruises company, will depart for the first winter cruise from Miami on November 29, 2012.

06/08/2012
More cruises in Northern Europe
It is expected that 2012 will be one of the most successful season in the modern history of the cruise traveling for the Northern Europe region. The European Cruise Council (ECC) has estimated that the number of passengers in the current season will increase by 16% compared with 2011 and reach 1 million 490 thousand people.

19/07/2012
Norwegian: free cruises for children
Norwegian Cruise Line, the third-largest cruise company in the world, announced a special offer – "Kids Sail Free". As part of the offer potential customers will be able to book on favorable terms cabins on the cruise ships for themselves and their children – the third and fourth beds in the cabin for the children under 17 years can be booked for free.


RSS
<![if (IE 6)]> <![endif]>