Cruise search. Cruises in Europe, cruises in Carribean, cruises in Asia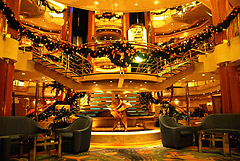 Luxury cruise: on the board of luxury cruise liner
Luxury Cruises
The major part of the cruise industry is luxury cruises, or as they are also called - premium cruises. The best ships, the most exciting routes, friendly staff and, of course, the highest prices - luxury cruises are the leader on all counts.

Luxury cruises can often be found in the Caribbean and Mediterranean Seas. Cruises from Europe to America are also among the world's most expensive tours. Luxury cruises to Northern Europe - here is a number of luxury cruises, for example, from London to Hamburg.
Luxury Cruises also means the legendary ships. Almost all the major modern airliners serve exactly luxury cruises. This is the famous British Queen Mary 2, Crystal Serenity, Sea Cloud II, the German ship MS Bremen, and Queen Elizabeth.
The modern tourism industry has a tradition to open new routes and destinations of luxury cruises on the eve of major holidays. Thus, the most interesting proposals in this class of cruises can be found before the New Year and Christmas.
At the same time, luxury cruises are the off-season tourism product. For example, the Caribbean luxury cruises are presented almost all the year round. The only exception is the hurricane season - from July to late November - when the frequency of cruising decreases.
Luxury cruises also differ from other similar services by its prices. Prices in this class of cruises are higher than the standard cruise of the same direction. The delta is from 10% to 40% of the basic cruise price. At the same time, luxury ship provides for an exclusive luxury vacation. Casino, exotic cocktails, safes for valuables, swimming pools with mineral water, sparkling wine of the 1972 harvest, cabins with silk draperies, special shows featuring the pop music stars - this is not a complete list of services and facilities available for the tourists during a luxury cruise .
Photo: Alexander Ivanov
News
06/08/2012
Riviera will start its first Caribbean cruise in Miami
Riviera, which is the newest ship of the Oceania Cruises company, will depart for the first winter cruise from Miami on November 29, 2012.

06/08/2012
More cruises in Northern Europe
It is expected that 2012 will be one of the most successful season in the modern history of the cruise traveling for the Northern Europe region. The European Cruise Council (ECC) has estimated that the number of passengers in the current season will increase by 16% compared with 2011 and reach 1 million 490 thousand people.

19/07/2012
Norwegian: free cruises for children
Norwegian Cruise Line, the third-largest cruise company in the world, announced a special offer – "Kids Sail Free". As part of the offer potential customers will be able to book on favorable terms cabins on the cruise ships for themselves and their children – the third and fourth beds in the cabin for the children under 17 years can be booked for free.


RSS
<![if (IE 6)]> <![endif]>