Cruise search. Cruises in Europe, cruises in Carribean, cruises in Asia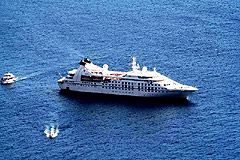 Sea cruise: cruise liner near Croatia's coast
Sea cruises
Nowadays sea cruises and ocean cruises are available in almost all seas and oceans of the world. Whether it's a sea cruise in Europe, or cruise along the coast of Africa, traditional tourist cruise in the Mediterranean Sea or luxurious sailboat cruise in the Caribbean - each of these destinations has a common denominator. It's their duration. Cruises are offered mostly for the period not less than a week. In addition, often during traditional sea cruises are visited ports of several countries. These cruises differ from other forms of water travels such as, for example, mini-cruises.

Transcontinental cruises are the "kings" of the water tourism industry. They can often be found on the front pages of the tourist agencies' and cruise companies' catalogues. Ships that serve the transcontinental lines are completely self-contained mini-cities, where there are almost all the modern tourism industry developments that are common for the usual resort: swimming pools, entertainment centers, casinos, restaurants, shopping areas, theaters and playgrounds. The main distinguishing feature of such cruises is minimal port visits. As a rule, during the cruise you can visit only two ports: the departure and arrival ports. So, passengers spend most of the time on the decks of their ships.

Similar features have such extreme forms of sea cruises as Arctic cruises. Here, due to the harsh conditions, most of the time tourists also spend on the ship.

Sea cruises are largely presented in almost all cruise companies. Tourists always have a choice: to use the services big cruise companies, such as Royal Caribbean, or try something more budget, such as cruises on the Baltic Sea, which are organized by several smaller cruise companies. Either way, cruises give a chance to see the most famous cruise ships of the planet and get the maximum level of comfort, which can only be imagined in the modern tourist cruise industry.
Photo: Dago Wiedamann
News
06/08/2012
Riviera will start its first Caribbean cruise in Miami
Riviera, which is the newest ship of the Oceania Cruises company, will depart for the first winter cruise from Miami on November 29, 2012.

06/08/2012
More cruises in Northern Europe
It is expected that 2012 will be one of the most successful season in the modern history of the cruise traveling for the Northern Europe region. The European Cruise Council (ECC) has estimated that the number of passengers in the current season will increase by 16% compared with 2011 and reach 1 million 490 thousand people.

19/07/2012
Norwegian: free cruises for children
Norwegian Cruise Line, the third-largest cruise company in the world, announced a special offer 'Äď 'ÄúKids Sail Free'ÄĚ. As part of the offer potential customers will be able to book on favorable terms cabins on the cruise ships for themselves and their children 'Äď the third and fourth beds in the cabin for the children under 17 years can be booked for free.


RSS
<![if (IE 6)]> <![endif]>