Cruise search. Cruises in Europe, cruises in Carribean, cruises in Asia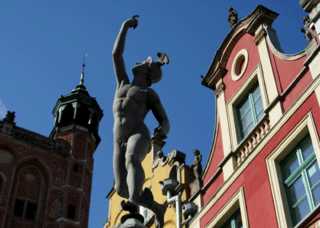 Vistula
Weichsel River Cruises - discover the beauty of Poland
On a Weichsel River Cruise you will become acquainted with the many faces of Poland: cities, history and landscapes are all on the agenda. Come on a journey of discovery!
The Weichsel River Cruise - where it takes place and when to go
The Weichsel flows through Poland. It rises in the western Beskid mountains and discharges after a journey of some 1047 kilometres into the Baltic at Gdansk. The best time for a Weichsel River Cruise is in the months of June to August.
Weichsel River Cruises - cities and tourist attractions
With its numerous Renaissance and Baroque buildings, the attractive city of Krakow is on the agenda. This is where you will find the second-oldest university in Central Europe, the imposing royal castle and the Jewish quarter of Casimir.
Warsaw, the capital of Poland, will also be on the itinerary. The historic city centre will transport you back in time. Warsaw's Royal Route— one of the world's longest ceremonial avenues — runs from the grandiose royal castle to the Vilanov Palace.
If your Weichsel River Cruise should happen to take you to the city of Toruń you will have the opportunity to wander in the footsteps of Copernicus. One of Toruń's many facets is the old town, a UNESCO World Cultural Heritage site with its buildings in the north German brick Gothic style. The city's main church of St. John is also a must.
The long-established port of Gdansk has many historic monuments to offer, such as the City Hall and the fountain of Neptune from the year 1633.
The Weichsel River Cruise - a voyage of many faces
Cities steeped in history, idyllic landscapes and traditional culture: experience the fascinating beauty of Poland on a Weichsel River Cruise!
News
06/08/2012
Riviera will start its first Caribbean cruise in Miami
Riviera, which is the newest ship of the Oceania Cruises company, will depart for the first winter cruise from Miami on November 29, 2012.

06/08/2012
More cruises in Northern Europe
It is expected that 2012 will be one of the most successful season in the modern history of the cruise traveling for the Northern Europe region. The European Cruise Council (ECC) has estimated that the number of passengers in the current season will increase by 16% compared with 2011 and reach 1 million 490 thousand people.

19/07/2012
Norwegian: free cruises for children
Norwegian Cruise Line, the third-largest cruise company in the world, announced a special offer – "Kids Sail Free". As part of the offer potential customers will be able to book on favorable terms cabins on the cruise ships for themselves and their children – the third and fourth beds in the cabin for the children under 17 years can be booked for free.


RSS
<![if (IE 6)]> <![endif]>