Cruise search. Cruises in Europe, cruises in Carribean, cruises in Asia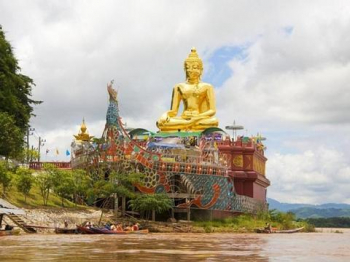 Mekong
Mekong River Cruises - discover the magic of Asia
The Mekong River Cruise comes with the promise of a whole lot of adventures for globetrotters. This voyage is full of contrasts, and you will never forget it! Set off on an incomparable Mekong River Cruise...
The Mekong River Cruise - where it takes place and when to go
The Mekong is about 4350 km long. It flows through China, Myanmar, Thailand, Laos, Cambodia and Vietnam. It rises at Mount Guozongmucha in China and discharges into the Pacific Ocean. The best time for a Mekong River Cruise is in the months of November to February.
Mekong River Cruises - cities and tourist attractions
The Mekong River Cruise takes you to the capital city of the People's Republic of Laos: Vientiane, with its enormous landmark, the "Pha That Luang". The royal temple of "Wat Ho Prakeo" and the night market are also very much worth visiting.
In the capital of Cambodia, Phnom Penh, you will find a wealth of architectural masterpieces which lend this city its particular charm.These include the 19th century royal palace and the "Phsar Thmei" central market, built in Art DĂ©co style.
If your Mekong River Cruise should take you to the Thai city of Nong Khai, we recommend that you make the time to gain an impression of the quaint atmosphere and city life, which has been unaffected by tourist developments. Of particular cultural interest is the imposing "Wat Pho Chai" temple with its golden Buddha statue. The "Sala Kaeo Ku" park, which is embellished with enormous sculptures, is an oasis of peace where you can really relax.
The economic hub of Vietnam, Ho-Chi-Minh City, is a destination characterised by lively goings-on. Numerous traditional markets present an opportunity to stroll around and browse. The mighty cathedral of Notre Dame, built during French colonial rule between 1877 and 1883, is an altogether more contemplative place.
The Mekong River Cruise - a journey of adventure
The Mekong River Cruise will bring you face-to-face with foreign cultures, exotic natural scenery and mystic temple complexes. Experience an Asia where life goes on as it always has...
Mekong

Mekong Pandaw




Mekong
from Kâmpóng Cham to My Tho - 8 days
33 departure dates:
September 2017 - December 2018
| Internal | OceanView | Balcony | Suite |
| --- | --- | --- | --- |
| | | | |


Mekong Pandaw




Mekong
from My Tho to Phnom Penh - 8 days
40 departure dates:
September 2017 - December 2018
| Internal | OceanView | Balcony | Suite |
| --- | --- | --- | --- |
| | from | | |


Angkor Pandaw




Mekong
from Hoa Binh to Hanoi - 11 days
16 departure dates:
September 2017 - March 2019
| Internal | OceanView | Balcony | Suite |
| --- | --- | --- | --- |
| | from | | |

News
06/08/2012
Riviera will start its first Caribbean cruise in Miami
Riviera, which is the newest ship of the Oceania Cruises company, will depart for the first winter cruise from Miami on November 29, 2012.

06/08/2012
More cruises in Northern Europe
It is expected that 2012 will be one of the most successful season in the modern history of the cruise traveling for the Northern Europe region. The European Cruise Council (ECC) has estimated that the number of passengers in the current season will increase by 16% compared with 2011 and reach 1 million 490 thousand people.

19/07/2012
Norwegian: free cruises for children
Norwegian Cruise Line, the third-largest cruise company in the world, announced a special offer – "Kids Sail Free". As part of the offer potential customers will be able to book on favorable terms cabins on the cruise ships for themselves and their children – the third and fourth beds in the cabin for the children under 17 years can be booked for free.


RSS
<![if (IE 6)]> <![endif]>