Cruise search. Cruises in Europe, cruises in Carribean, cruises in Asia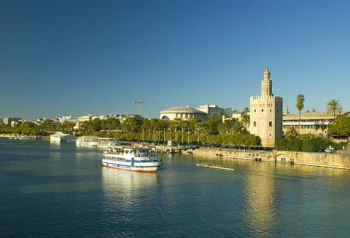 Guadiana
Guadiana River Cruises - discover living history
Find out for yourself about Spanish and Portugueuse flair on a Guadiana River Cruise. Experience the Andalusian landscape with all its uniqueness and tradition. Take a trip under the south European sun to historically significant places and uncover this region's special qualities.
The Guadiana River Cruise - where it takes place and when to go
The Guadiana is a 742 km-long river on the Iberian peninsula, which flows through Spain and Portugal. Rising in south-eastern Spain, it flows westwards before finally discharging into the Atlantic on the southern coast of Portugal. The best time for a Guadiana River Cruise is the spring and autumn months.
Guadiana River Cruises - cities and tourist attractions
Of the total length of 742 km, only the 72 km downstream of MĂ©rtola are navigable. MĂ©rtola is a very old Portuguese town, which was the site of a harbour as long as 3000 years ago. This long history has been gradually brought to light over the years by excavations. The Roman and Moorish finds which have been unearthed throughout the town are exhibuted in two highly recommended small museums. The town itself, with its red tile roofs and white walls, is typical of the region.
Another destination on the river is SanlĂşcar de Guadiana. The pretty little harbour and the castle of San Marco are two captivating sights. Nature lovers are also encouraged to explore the surrounding areas.
The mouth of the river is the location of the Spanish town of Ayamonte. Tourist attractions here include the "Iglesia de las Angustias", the town's most significant church, which dates from the middle of the 16th century, alongside a whole array of other interesting buildings from recent centuries.
The Guadiana River Cruise - culture under the sun
Come on a journey through sunny southern Europe and discover the relaxed atmosphere of a Guadiana River Cruise.

News
06/08/2012
Riviera will start its first Caribbean cruise in Miami
Riviera, which is the newest ship of the Oceania Cruises company, will depart for the first winter cruise from Miami on November 29, 2012.

06/08/2012
More cruises in Northern Europe
It is expected that 2012 will be one of the most successful season in the modern history of the cruise traveling for the Northern Europe region. The European Cruise Council (ECC) has estimated that the number of passengers in the current season will increase by 16% compared with 2011 and reach 1 million 490 thousand people.

19/07/2012
Norwegian: free cruises for children
Norwegian Cruise Line, the third-largest cruise company in the world, announced a special offer – "Kids Sail Free". As part of the offer potential customers will be able to book on favorable terms cabins on the cruise ships for themselves and their children – the third and fourth beds in the cabin for the children under 17 years can be booked for free.


RSS
<![if (IE 6)]> <![endif]>