Cruise search. Cruises in Europe, cruises in Carribean, cruises in Asia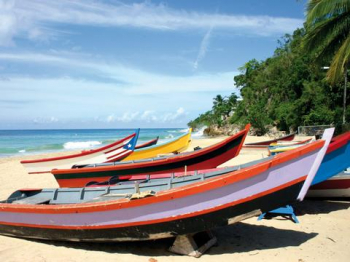 Western Caribbean
Western Caribbean Cruises - the sound of steel drums and the rhythms of a care-free lifestyle
Leave everyday life behind and immerse yourself in the easy-going life of the western Caribbean. Be inspired by nature's contrasts, seas of vibrantly coloured flowers and jagged rocky coastlines - by endless snow-white sandy beaches and roaring waterfalls. A Caribbean cruise in the western region will let you in on this exotic world.
The Western Caribbean Cruise - where it takes place and when to go
The western Caribbean lies to the north of the Equator and was named after the Carib people. The principal languages, alongside French and Dutch, are Spanish and English. The best time for a Caribbean cruise is between December and May.
Western Caribbean cruises - islands and tourist attractions
The Bahamas - let yourself in for riveting adventures, such as feeding alligators, while at the same time enjoying the languor of beaches lapped by turquoise waters right out of paradise. Discover the many facets of the independent island state of Jamaica with her Blue Mountains that tower up to a height of 2200 metres, the near-deserts in the south and the lush, dark-green north. Let your Western Caribbean Cruise take you to Haiti, the country which occupies the western half of the island of Hispanola. The ruins of the Sans Souci palace will take you back into Haiti's history. The Macaya National Park, with its wild beaches, will leave you with impressions rich in contrast. The Cayman Islands are an equally popular destination for cruise ships. The island's freedom from taxation has made its capital, George Town, into one of the world's most important financial centres. At the same time, the gigantic coral banks and wonderful beaches ensure that no watersports enthusiast or sun worshipper need go away disappointed.
The Western Caribbean Cruise - relax at sea
What better place to chill, far away from the stress of everyday life, than on a Caribbean Cruise? Immerse yourself in the unique attitude to life of the Caribbean ...

News
06/08/2012
Riviera will start its first Caribbean cruise in Miami
Riviera, which is the newest ship of the Oceania Cruises company, will depart for the first winter cruise from Miami on November 29, 2012.

06/08/2012
More cruises in Northern Europe
It is expected that 2012 will be one of the most successful season in the modern history of the cruise traveling for the Northern Europe region. The European Cruise Council (ECC) has estimated that the number of passengers in the current season will increase by 16% compared with 2011 and reach 1 million 490 thousand people.

19/07/2012
Norwegian: free cruises for children
Norwegian Cruise Line, the third-largest cruise company in the world, announced a special offer – "Kids Sail Free". As part of the offer potential customers will be able to book on favorable terms cabins on the cruise ships for themselves and their children – the third and fourth beds in the cabin for the children under 17 years can be booked for free.


RSS
<![if (IE 6)]> <![endif]>