Cruise search. Cruises in Europe, cruises in Carribean, cruises in Asia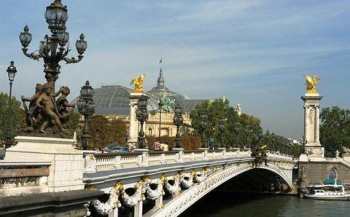 Seine
Seine Cruises - experience France
Historic monuments, an abundance of living nature and French charm will combine to give you unforgettable moments. The very best levels of service and comfort and the homely atmosphere on board the specially constructed riverboats are all things to look forward to. The Seine Cruise is a wonderful experience for all your senses…
The Seine Cruise - where it takes place and when to travel
The Seine flows right through northern France. It rises in Burgundy close to Dijon on the Plateau de Langres. After about 776 km it flows into the English Channel at Le Havre. The best time for a Seine Cruise is in the months from April to October.
Seine Cruises - cities and tourist attractions
The most famous city on the Seine is of course the French capital, Paris. Numerous landmarks, such as the world-famous Eiffel Tower, the Louvre art gallery, the Sacré-Coeur cathedral and the Arc de Triomphe are all highlights of the city.
In Le Havre, France's second biggest port, you have an opportunity to relax on the beach which is roughly 2 km long. Highly recommended also are visits to the cathedral of Notre Dame and the Villa Maritime.
If your Seine River Cruise should happen to take you to the port city of Rouen, you will have the opportunity of visiting a Calvados vineyard. It's also worth visiting the church of Joan of Arc and the imposing clock tower.
Medieval flair awaits you in Honfleur. Buildings such as the Lieutenance or the Vieux Bassin will give you insights into the town's history.
The Seine Cruise - between culture and nature
Look forward to landscapes teeming with wild flowers, imposing cities and a great many interesting cultural monuments. Look forward to your unforgettable Seine Cruise...

News
06/08/2012
Riviera will start its first Caribbean cruise in Miami
Riviera, which is the newest ship of the Oceania Cruises company, will depart for the first winter cruise from Miami on November 29, 2012.

06/08/2012
More cruises in Northern Europe
It is expected that 2012 will be one of the most successful season in the modern history of the cruise traveling for the Northern Europe region. The European Cruise Council (ECC) has estimated that the number of passengers in the current season will increase by 16% compared with 2011 and reach 1 million 490 thousand people.

19/07/2012
Norwegian: free cruises for children
Norwegian Cruise Line, the third-largest cruise company in the world, announced a special offer – "Kids Sail Free". As part of the offer potential customers will be able to book on favorable terms cabins on the cruise ships for themselves and their children – the third and fourth beds in the cabin for the children under 17 years can be booked for free.


RSS
<![if (IE 6)]> <![endif]>