Cruise search. Cruises in Europe, cruises in Carribean, cruises in Asia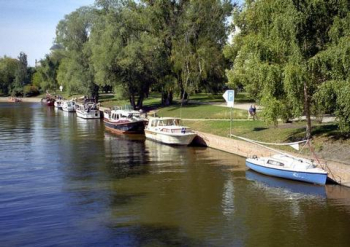 Elbe-Havel Canal
Elbe-Havel Canal Cruises - in the heart of Germany
The Elbe-Havel Canal makes it possible: starting in the Ruhr industrial area, you can get all the way to Poland without leaving the water. What's more, the canal offers cruise enthusiasts views of a fascinating part of Germany.
The Elbe-Havel Canal Cruise - where it takes place and when to go
The 56 km-long Elbe-Havel Canal flows through the states of Saxony-Anhalt and Brandenburg. It connects the Midland Canal at Magdeburg with the "GroĂźer Wendsee" at Brandenburg on the Havel. The best time for an Elbe-Havel Canal Cruise is between May and September.
Elbe-Havel Canal Cruises - cities and tourist attractions
As a rule, an Elbe-Havel Canal Cruise will take in a trip on the Elbe. A trip on the Elbe-Havel Canal itself will take you to some delightful little towns with treasures that are well worth seeing. These include Genthin with its octagonal water tower, the village of Wusterwitz with the lock of the same name, the fortress towers of Burg and Brandenburg on the Havel, home to Brandenburg Cathedral.
The Elbe-Havel Canal Cruise - an interesting journey
Go on a cruise on the Elbe-Havel Canal and experience the flair of eastern Germany's landscapes and culture in their most pristine form.
News
06/08/2012
Riviera will start its first Caribbean cruise in Miami
Riviera, which is the newest ship of the Oceania Cruises company, will depart for the first winter cruise from Miami on November 29, 2012.

06/08/2012
More cruises in Northern Europe
It is expected that 2012 will be one of the most successful season in the modern history of the cruise traveling for the Northern Europe region. The European Cruise Council (ECC) has estimated that the number of passengers in the current season will increase by 16% compared with 2011 and reach 1 million 490 thousand people.

19/07/2012
Norwegian: free cruises for children
Norwegian Cruise Line, the third-largest cruise company in the world, announced a special offer – "Kids Sail Free". As part of the offer potential customers will be able to book on favorable terms cabins on the cruise ships for themselves and their children – the third and fourth beds in the cabin for the children under 17 years can be booked for free.


RSS
<![if (IE 6)]> <![endif]>