Cruise search. Cruises in Europe, cruises in Carribean, cruises in Asia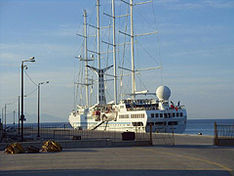 Cruise sailboat from Windstar Cruises represents the standard class for sail cruises
Cruise ships classification
When looking for cruises tourists often face with such terms as "luxury cruise" or "premium cruise". But it is not always clear what lies behind these names as in the world there is no any full-fledged unified cruise ship classification system. Nevertheless, more or less common standards of cruise ships quality do exist.

Classification of cruises: ship classes
After decades cruise companies have adapted to define cruise ship class "by sight" and even invented a special vocabulary. Today generally accepted classes of ships are divided into:

- standard

- premium

- deluxe

A number of experts sometimes add other classes such as budget, deluxe, etc. But all such estimates are quite subjective.

The classes of ships are also divided in accordance with the size (displacement):

- small-class ships

- middle-class ships

- large-class ships

- superliners
Berlitz: the most authoritative rating of cruise ships
Criteria for evaluating ship classes are based on ratings of several authoritative guidebooks, the most respectable is an annual publication Berlitz Complete Guide to Cruising and Cruise Ships. Berlitz system of classes is recognized as the most perfect among all existing on the market. In the cruise world Berlitz Cruise means practically the same as famous Michelin guide in the world of the restaurant business. To date Berlitz experts evaluate about 280 cruise ships from more than 60 cruise operators.
Berlitz classification system
According to the Berlitz classification system, ship class is determined by awarding points in the six main groups:
- The ship (age, displacement, etc.)

- Accommodation/cabins

- Food

- Entertainment

- Service

- Cruise organization
In total about 400 options of the liner are taken into account.

The class of liners is determined according to the number of points gained by each ship. Classes of liners are similar to the hotel classes. The highest level is 5*, while the lowest is 1*. Additional "deluxe" classes are 2+, 3+, etc also available.
Classification of cruise companies: Lifestyle
Cruise comfortability is determined not only by the age of ship or the number of dishes for breakfast. General entourage, which is difficult to take into account in the above six groups, is also a crucial criterion. Therefore, Berlitz invented an additional criterion "lifestyle", which classifies mostly cruise companies and defines recreation quality for different groups of passengers. It is accepted to divide companies into four groups: standard, premium, luxury and exclusive. Standard class usually includes almost all major cruise lines such as Carnival Cruise Line, Costa Cruises, Royal Caribbean International, NCL and many others. Premium class is presented by Celebrity Cruises and Windstar Cruises sailboats. Luxury class includes Cunard Line and Crystal Cruises. Exclusive class is the height of perfection and luxury. Here, as a rule, are presented single ships, not companies.
Internal classification of cruise companies
Major cruise companies have the so-called "internal" classification, which includes ratings and class names. As a rule, classes depend on the vessel displacement. Class names are given according to the name of the first ship, which served as the prototype for subsequent analogues. For example, Royal Caribbean International has 6 such classes, Carnival has 7.
Photo: Markus Lenk
News
06/08/2012
Riviera will start its first Caribbean cruise in Miami
Riviera, which is the newest ship of the Oceania Cruises company, will depart for the first winter cruise from Miami on November 29, 2012.

06/08/2012
More cruises in Northern Europe
It is expected that 2012 will be one of the most successful season in the modern history of the cruise traveling for the Northern Europe region. The European Cruise Council (ECC) has estimated that the number of passengers in the current season will increase by 16% compared with 2011 and reach 1 million 490 thousand people.

19/07/2012
Norwegian: free cruises for children
Norwegian Cruise Line, the third-largest cruise company in the world, announced a special offer – "Kids Sail Free". As part of the offer potential customers will be able to book on favorable terms cabins on the cruise ships for themselves and their children – the third and fourth beds in the cabin for the children under 17 years can be booked for free.


RSS
<![if (IE 6)]> <![endif]>