Cruise search. Cruises in Europe, cruises in Carribean, cruises in Asia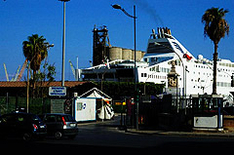 Ferry cruises to Sicily (Italy)
Ferry cruises
Ferry transport serves the needs of half of the world. But recently ferries began to operate also as cruise ships.

Ferry cruises: away from stereotypes
Many tourists still think about ferry as a small vessel full of people and goods. Today, however, it is just a stereotype, an archaism, which can be found only in some Asian and African countries. In Europe ferry is not just an opportunity to travel by your own car. Now it is also comfortable ships, which along with cruise ships and mega-yachts form modern sea travel industry.
Ferry cruises: key directions
Ferry cruises became popular in the late 1990s. In Europe today there are several especially popular ferry cruise areas. The Baltic and Northern Europe are, perhaps, the most interesting of them. These directions are operated by several companies offering short but memorable cruise tours.
Baltic Sea: ferry companies
Among the companies, which offer the most interesting and exciting ferry cruises on the Baltic Sea, are the following:

Tallink (from Tallinn to the Scandinavian capitals)

Color Line (Oslo – Kiel cruise direction)

Brittany Ferries (cruises across the English Channel)

St.Peter Line (cruises from St. Petersburg to Stockholm and Helsinki)
Mediterranean ferry cruises: Italy rules
Ferry cruises in the Mediterranean are also gaining popularity. Italy is the leader of this area. Its companies Tirrenia, SNAV, TTT lines organize tours from Rome and Naples to Sardinia, Sicily and Barcelona. There are also available tours from Bari to Montenegro and from the ports of Sicily to Malta. It should be noted that these routes are mostly transport than tourist. They usually last no more than one day, but give the tourists traveling by their own cars an excellent opportunity to visit colorful Italian islands.
As for Northern Europe, here ferry cruises last from 1 to 3 days.
Ferry cruises: accommodation
Comfort. Today some ferries are getting closer to the luxury liners. For example, Color Line with its micro cruises from Norway to Germany are quite popular due to the quality of cabin interior and a huge choice of entertainment on board: from casinos to pools.
However, cabins on most cruise ferries are still smaller than cabins on cruise ships.
Ferry cruises: cheaper than cruises, but ...
Ferry cruises are often cheaper than tours on cruise liners. At the same time the price may not include some common cruise options. For example, food on ferry cruises is often not included into the tour price.
Anyway, ferry cruises can't replace or compete with cruise liners. It is just another type of sea travel, which can be fun and intriguing.
Photo: D. Zuev
News
06/08/2012
Riviera will start its first Caribbean cruise in Miami
Riviera, which is the newest ship of the Oceania Cruises company, will depart for the first winter cruise from Miami on November 29, 2012.

06/08/2012
More cruises in Northern Europe
It is expected that 2012 will be one of the most successful season in the modern history of the cruise traveling for the Northern Europe region. The European Cruise Council (ECC) has estimated that the number of passengers in the current season will increase by 16% compared with 2011 and reach 1 million 490 thousand people.

19/07/2012
Norwegian: free cruises for children
Norwegian Cruise Line, the third-largest cruise company in the world, announced a special offer – "Kids Sail Free". As part of the offer potential customers will be able to book on favorable terms cabins on the cruise ships for themselves and their children – the third and fourth beds in the cabin for the children under 17 years can be booked for free.


RSS
<![if (IE 6)]> <![endif]>