Cruise search. Cruises in Europe, cruises in Carribean, cruises in Asia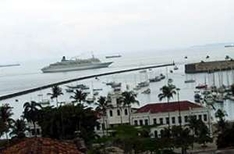 Photos of Salvador da Bahia port
Photos of Salvador da Bahia port
For the majority of cruises along the coast of Brazil visiting of the Salvador de Bahia port is part of the obligatory route. Salvador de Bahia is the former Brazilian capital, a picturesque town situated on several mountain levels, surrounded by lush tropics and one of the most photogenic port cities of Brazil.

The cruise port of Salvador de Bahia is located in the so-called lower city (Cidade Baixa). Here tourist can see a picturesque panorama of the ancient city walls, towers and churches. Cruise trips to the port of Salvador de Bahia usually include onshore excursions, where all passengers have the opportunity to refill their photo collection of the legendary Brazilian city in the center of the Bahia region. Salvador de Bahia is also very musical city. So, a significant part of its atmosphere - sound - unfortunately, can not be reproduced on pictures.

This city is considered to be the birthplace of capoeira, a famous dance, which is also a kind of martial arts.

Salvador de Bahia is also homeland of one of the most famous Brazilian bands, Olodum, which performs traditional fiery Brazilian music.

The main attraction, which is shown to the tourists during the cruises to Salvador de Bahia, is Pelourinho slave market. During the Portuguese rule in through this market passed 5 million slaves. Today Pelourinho is included into the UNESCO World Architectural Heritage List.

Another object adjacent to the port that attracts amateur photographers is a former fish market and fishing port, where small private boats offer mini-tours along the coast and the famous Bahia beaches.

Cruise season in Salvador de Bahia begins in winter. At this time here arrive many mega liners, which can usually be found on the Mediterranean routes. In this section you can see photos of cruise ships in the port of Salvador de Bahia, as well as photos of the port itself.
Comments
No comments
News
06/08/2012
Riviera will start its first Caribbean cruise in Miami
Riviera, which is the newest ship of the Oceania Cruises company, will depart for the first winter cruise from Miami on November 29, 2012.

06/08/2012
More cruises in Northern Europe
It is expected that 2012 will be one of the most successful season in the modern history of the cruise traveling for the Northern Europe region. The European Cruise Council (ECC) has estimated that the number of passengers in the current season will increase by 16% compared with 2011 and reach 1 million 490 thousand people.

19/07/2012
Norwegian: free cruises for children
Norwegian Cruise Line, the third-largest cruise company in the world, announced a special offer – "Kids Sail Free". As part of the offer potential customers will be able to book on favorable terms cabins on the cruise ships for themselves and their children – the third and fourth beds in the cabin for the children under 17 years can be booked for free.


RSS
<![if (IE 6)]> <![endif]>