Cruise search. Cruises in Europe, cruises in Carribean, cruises in Asia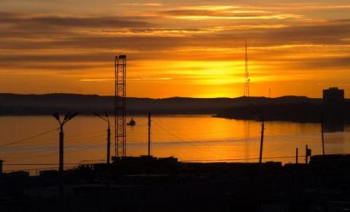 Amur
Amur River Cruises - discover the far east of Russia
In the far east of Russia flows the Amur, whose name means "Big River". The Chinese call it the "River of the Black Dragon". And it is indeed the case that this river, at over 4000 kilometres in length, is very large and has some unusual features. So there really is a lot to discover on an Amur River Cruise.
The Amur River Cruise - where it takes place and when to go
The Amur is a 4445 km long river which flows through Russia and China. It rises in China as the confluence of two rivers and forms the border between the two countries for more than 2000 km before finally discharging in Russian territory into the Northern Pacific. The best time for an Amur River Cruise is from June to September.
Amur River Cruises - cities and tourist attractions
Among other places, the Amur River Cruise will take you to Blagoveshtshensk. This Russian city is home to several academies and universities. Khabarovsk, with some interesting buildings, is also on the itinerary. Komsomolsk-on-Amur is also interesting due to its colourful history.
The Amur River Cruise - discover Russian traditions
The journey on the Amur will allow you to discover unspoilt parts of Russia. Get to know Russian cities, steppe landscapes and nomadic trading metropolises, as well as the borderlands between Russia and China, which are places of great contrast.
News
06/08/2012
Riviera will start its first Caribbean cruise in Miami
Riviera, which is the newest ship of the Oceania Cruises company, will depart for the first winter cruise from Miami on November 29, 2012.

06/08/2012
More cruises in Northern Europe
It is expected that 2012 will be one of the most successful season in the modern history of the cruise traveling for the Northern Europe region. The European Cruise Council (ECC) has estimated that the number of passengers in the current season will increase by 16% compared with 2011 and reach 1 million 490 thousand people.

19/07/2012
Norwegian: free cruises for children
Norwegian Cruise Line, the third-largest cruise company in the world, announced a special offer – "Kids Sail Free". As part of the offer potential customers will be able to book on favorable terms cabins on the cruise ships for themselves and their children – the third and fourth beds in the cabin for the children under 17 years can be booked for free.


RSS
<![if (IE 6)]> <![endif]>